How to Prepare your Electric Mobility Scooter for Post-Lockdown Travel
---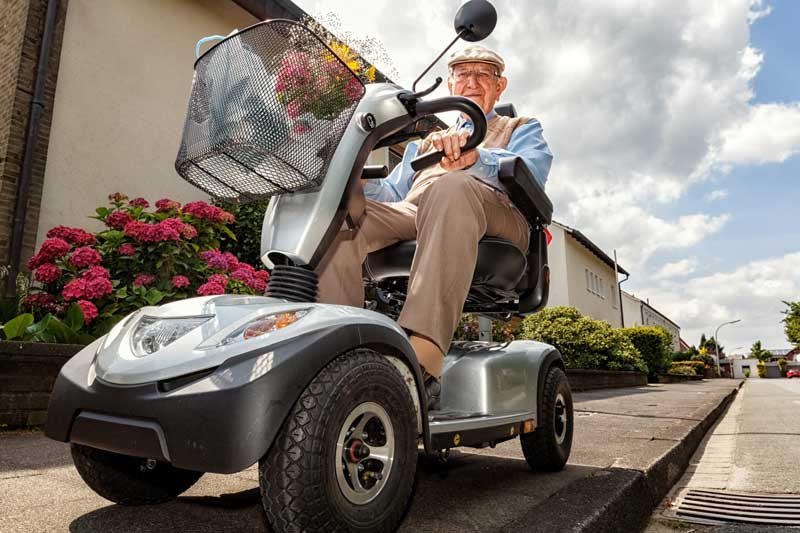 ---
After months of being in nationwide lockdown, life in the UK is slowly starting to return back to normal – or, at least, the 'new normal'. Now that restrictions have eased and people are coming out of isolation, you may want to regain independence, meet up with others at a safe distance, and visit local shops.
But after so much time left unused, you may need to carry out some essential safety checks on your electric mobility scooter to ensure safe travelling.
Check your electric mobility scooter's battery
Before making your first trip, you need to double check that your battery is fully charged and ready to go. The last thing you need is for it to run flat while you're out and about, so ensure it is full by using the battery charger – you can refer to your electric mobility scooter's manual if you need help doing this.
Double check the lock
Now that we're able to go out and about a bit more, you may wish to leave your scooter outside while popping into a shop, café or home. So, to keep your electric mobility scooter safe, ensure that your lock still works and is secure before leaving it unattended.
Test your lights
To ensure safe travel, ensure your scooter's lights are working before leaving. It's also worth noting that leaving your lights on can drain the battery life, so be sure to turn them off when they're not needed.
Check the tyres
Finally, you'll want to make sure that your electric mobility scooter's tyres are still in tip-top condition. After a while of sitting around, a slow puncture could have taken effect and leave you with a flat tyre. Many scooters are fitted with puncture-proof tyres, but it's always good practice to check for general wear and tear to ensure longevity.
Here at Countrywide Mobility, we offer a thorough repairs service, meaning you can rest assured that a member of our team will be on-hand to get your scooter back up to scratch, should any issues arise.
We have a fantastic range of electric mobility scooters for those who are looking to regain independence and get around more easily.
Find the right one for you by having a chat with our team on 01905 29950 or come and visit our store in Worcester. Alternatively, we're more than happy to come to you at home to demonstrate different products that suit your needs.
Please get in touch to book your visit or find out more.