How to Choose the Right Walking Aid for You
---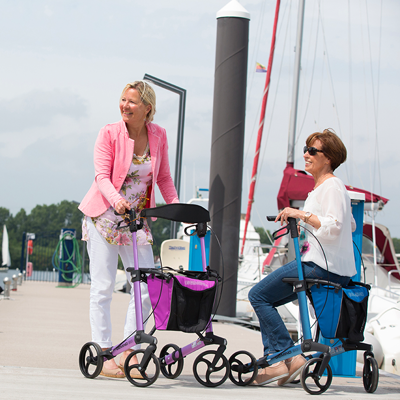 ---
Choosing the right walking aid is essential to your health and wellbeing, but with many options out there, it's important to weigh up the pros and cons of each. From tri walkers to rollators, canes to walking frames, there are lots of options, so we've rounded up the key details to look out for.
Tri Walkers
We believe you should remain as mobile as possible, even if this means having just a little support. Tri walkers are a great option for those who need help to get around the house or local area; using only three wheels, our tri walkers are an excellent walking aid and allow you greater and faster mobility.
Lightweight and easy to transport, our tri walkers fold down for easy storage and, with adjustable handles, they can be set at the right height for individual users. If you suffer from arthritis, the looped cable brakes are simple and lockable, making for easier use. The front-wheel swivels around, meaning manoeuvrability is much more seamless, and the vinyl bag that comes with it is a useful addition and is easy to clean.
If you'd like more information about the tri walkers we stock, please give us a call or visit us in-store.
Rollators
At Countrywide Mobility, we stock a range of different rollators, depending on the needs of the user. You can decide to opt for four-wheeled or five-wheeled rollators if you need more stability and support. Their designs mean they're easier to move across uneven surfaces and the looped cable brakes make for easy use.
Similarly to tri walkers, our rollators include swivelling front wheels to increase manoeuvrability, and the handles adjust to suit different heights.
The rollators differ from tri walkers when it comes to seating – our rollators have a padded seat and backrest, which is great for those who perhaps need to rest. In some cases, this seat can be used for storage too. If you're looking for easy transportation and storage, it could be useful to note that rollators are generally slightly heavier than tri walkers, with the extra wheels.
We have rollators for both indoor use and outdoor use.
Get in touch with us for more information about our mobility aids.
Canes
Canes make a great mobility aid for those who need less stability but benefit from a little more support and balance. Canes are great for helping you to distribute your weight, relieving pressure from joints such as your hips, knees and back. All of our canes are lightweight for ease of use and have a non-slip ferrule for stability on various surfaces.
If you'd like to know more about the range of canes we have in store, give us a quick call or drop by and see us in-store.
Walking Frames
Ideal for both the elderly and those who are recovering from injury, walking frames are lightweight and are a great walking aid for support and stability. With two front wheels and two rear ferrules, the motion of walking will be slower than the rollators or tri walkers, and the handgrips ensure the user's safety.
So, if you're looking for something that will offer a fluid walking pattern, yet also provides more support and stability, get in touch with us to discuss our walking frames.
No matter what walking aid you opt for, the bottom line is that you need one that will suit your requirements. The best way to get an insight into what best suits you is to contact our friendly team, who'll guide you through all the options and help you choose the right product.